Whether you work full time, are a busy stay-at-home parent, are in school, or have other busy life demands, it isn't always easy to start your day with a healthy breakfast. With a few of these tips, however, you can be better prepared to give yourself (and your family) fast and easy ways to get fueled for your day.
Refrigerator Oats
If you haven't tried out this nutritious breakfast trend, you might wonder what it's all about. Simply put, refrigerator oats are healthy whole oats that you soak overnight in ingredients such as milk or yogurt. Proponents of this breakfast trend, like the Eat This, Not That blog, say that eating oats this way can boost metabolism and help your body absorb more nutrients over the cooked version. Another benefit is time, of course – with the overnight method, you can just grab your oats, a spoon, and go!
There are dozens of refrigerator oat recipes using healthy add-in ingredients ranging from chia and flax seed (which you can easily buy online at places like GNC) to nuts and berries. Here are three picks that are as delicious as they are fast. Start with simple recipes like these and then try some more complicated versions if you feel the need to get a bit more adventurous with your oats!
Apple Crisp Refrigerator Oats: This simple recipe from Betty Crocker calls for old-fashioned oats, yogurt, apples, nuts, and optional chia seed and cinnamon. This is a perfect easy way to start with refrigerator oats because the ingredients are likely things you already have on hand.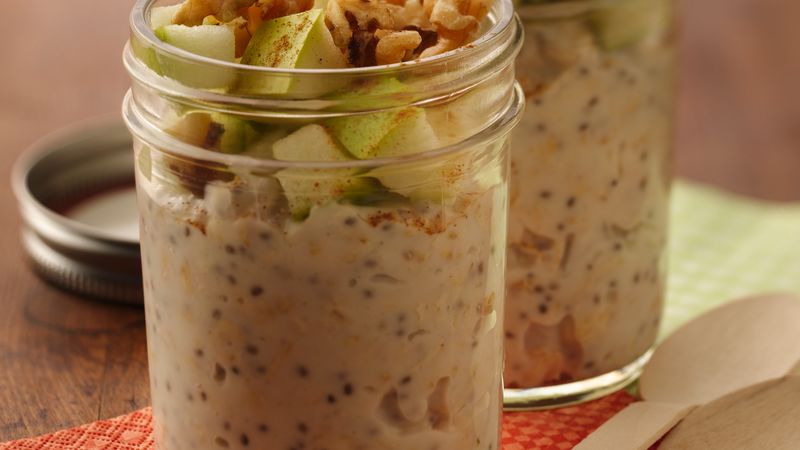 Protein Powder Refrigerator Oats: This ultra-easy recipe from the blog Blissful Balance, adds an extra punch of protein to this easy breakfast with vanilla protein powder, almond milk, and cinnamon. You can easily customize this with additional fruits and nuts of your preference, or change up the flavor by using different protein powder and/or almond milk flavors.
Nutella Overnight Oats: If you're struggling to get your kids to eat something healthy in the morning, try something like this Nutella oats recipe. (If you're kids are anything like mine, they'll eat Nutella right out of the jar, so this is a fun and easy way to get some more fiber and protein in them in the morning). Whole oats, milk, Nutella, and crispy granola bars are combined for a quick and easy go-to breakfast you can feel good about.
Greek Yogurt, Fruit, and Granola
Another easy breakfast you can make quickly, or pack and prepare in advance in yogurt, fruit, and granola packs. To make this for multiple days for a single person or more packs for a family, buy the large containers of Greek yogurt in your preferred flavor. Portion the yogurt out in leak-proof containers, and top with fresh or frozen fruit of your choice (raspberries, blueberries, and strawberries all work well). Fill a small bag (like the 100 calorie portion packs available in the bag section of many grocery stores) with dry granola. If you're going to take this on the go, attach the granola to the yogurt container with a small piece of clear tape.
Make-Ahead Breakfast Sandwiches
You can buy frozen, pre-made breakfast sandwiches, but they are expensive! Not to mention they often contain too much fat and too little fiber to be very healthy for your family. Instead, you can opt to make your own quick and easy breakfast sandwiches and adjust the flavors as needed for you and your family.
Start with the bread or wrap (this can be whole-wheat English muffins, bagels, sandwich thins, or even a whole wheat or whole grain tortilla shell). Cook or scramble a single egg or egg white for each sandwich, and add a precooked turkey sausage patty or slice or two of precooked turkey. Add cheese if desired, and place the finished sandwich in the refrigerator in a microwave safe container. In the morning, all you'll need to do is heat and serve, or wrap in foil to take on the road. You can also easily customize these for individual tastes. Have someone who hates bland breakfasts? Use pepper jack cheese or add some hot sauce to the eggs during cooking. Want to incorporate more fiber? Toss in some veggies like spinach, mushroom, and onion, and omit the sausage or bacon.
Easy Breakfast Meal Packs
There are many great options for meal prep containers, and these can really simplify things when it comes to breakfast. (Even better, these often go on sale at Amazon or Walmart, so you can find them at very affordable prices). Look for containers that have separated areas so you can pack quick breakfasts that have variety.
You can fix these according to whatever meal and diet plans you prefer (low-carb or keto, low-fat, sugar free, etc), and easily get a balanced breakfast. For proteins, fill one area with things like hard boiled eggs, nuts, or precooked ham or turkey. Fill another area with fresh fruit, such as cut up melon, grapes, or berries. A small portion of cheese or yogurt are other good choices (only include yogurt if compartments are fully separated). Add whole-grain mini muffins or waffles, or homemade or store-bought breakfast biscuits, and you have tons of great, balanced flavors for a quick go-to breakfast pack.
Fast Frittatas
With a quick trick you can make fast, easy, and delicious frittatas even on the busiest morning. Assemble your ingredients on one plate the night before and cover with plastic wrap. For something inspired, place spinach or arugula and diced tomatoes or fresh salsa in the center of your plate, and place ingredients like chopped mushrooms, shredded low-fat cheese (such as cheddar or monterey jack) and diced onions on the side.
In the morning, cook liquid egg whites until about halfway done, then toss in the mushrooms, onions, or any other veggies you want warmed. When these are fully cooked, top with shredded cheese and place over the greens and tomatoes or salsa for a fast, gourmet-looking breakfast! If you're taking this on the go, you can easily toss all ingredients into a heat-resistant container and enjoy.