If there's one thing that we can all agree on, it's that jeans are here to stay—denim has gone from play clothes for children to around-the-house loungewear to closet staples that you can dress up or dress down. Every season brings the emergence of a new denim styles or in some cases a throwback style that has been reinvented. Now, you're not one to fall behind on dressing sharp, but you might be a little nervous about experimenting with a style of denim you've never worn before. Here's a few of this year's hottest denim trends that you should add to your closet.
Down with Dull—Destroyed is In!
One of the boldest, in-your-face and on-point trends that we're seeing this season is the rise of destroyed denim. First popularized in the 80s, destroyed denim has enjoyed a relatively steady comeback in fashion lines since the early 2000s, but this year, it's back and better than ever. Fashion gurus are ditching the small, manufactured holes and slashes and going for a look that is all-out ripped, a little seductive, and majorly edgy.
Take this pair from American Eagle Outfitters—the dark wash denim and super stretchy jegging material make for a flattering fit for any body type, as does the "Sky High" waistline. High-waisted jeans are having a huge fashion moment right now, and that's a beautiful thing, because low-rise jeans tend to squish and squeeze areas of our body that may cause us to appear a smidge top-heavy. Conversely, the higher the rise, the cleaner the lines, so don't be afraid to embrace a high waist and see how it transforms your figure.
Now, the destruction on these guys is intense, from the slashed up legs to the rough, ripped hemlines, but the model makes it easy to see how to make these work with any casual outfit. Jeggings are great with short booties, and although this gal chose a form-fitting shirt with a little bit of belly peek-a-boo, you can be sure that this slender-fitting, comfortable jean can just as easily be rocked with a drapey sweater for cooler months. Long layers and fabric movement on top balance out the snug bottoms, giving you the perfect look.
Pro tip: if you're dying to save a little money on your next AE haul, check out our buying guide for the retailer right here for special savings!
Get the Skinny on the Skinnies
In case you haven't noticed, skinny jeans have made a huge return to all of our favorite retailers, emerging for the first time since the 80's to quickly become every "It" girl's go-to piece (in the fashion world, it all comes back around!). The modern skinny jean, however, isn't particularly retro, as it carries a sort of Audrey Hepburn-like femininity that is ready to be modernized by a sleek, sexy pair of heels or a faux leather moto jacket. The downside is, curvier girls tend to think this cut looks best on smaller figures, and that is simply not the case! You just have to find yourself the right pair, and we're here to help.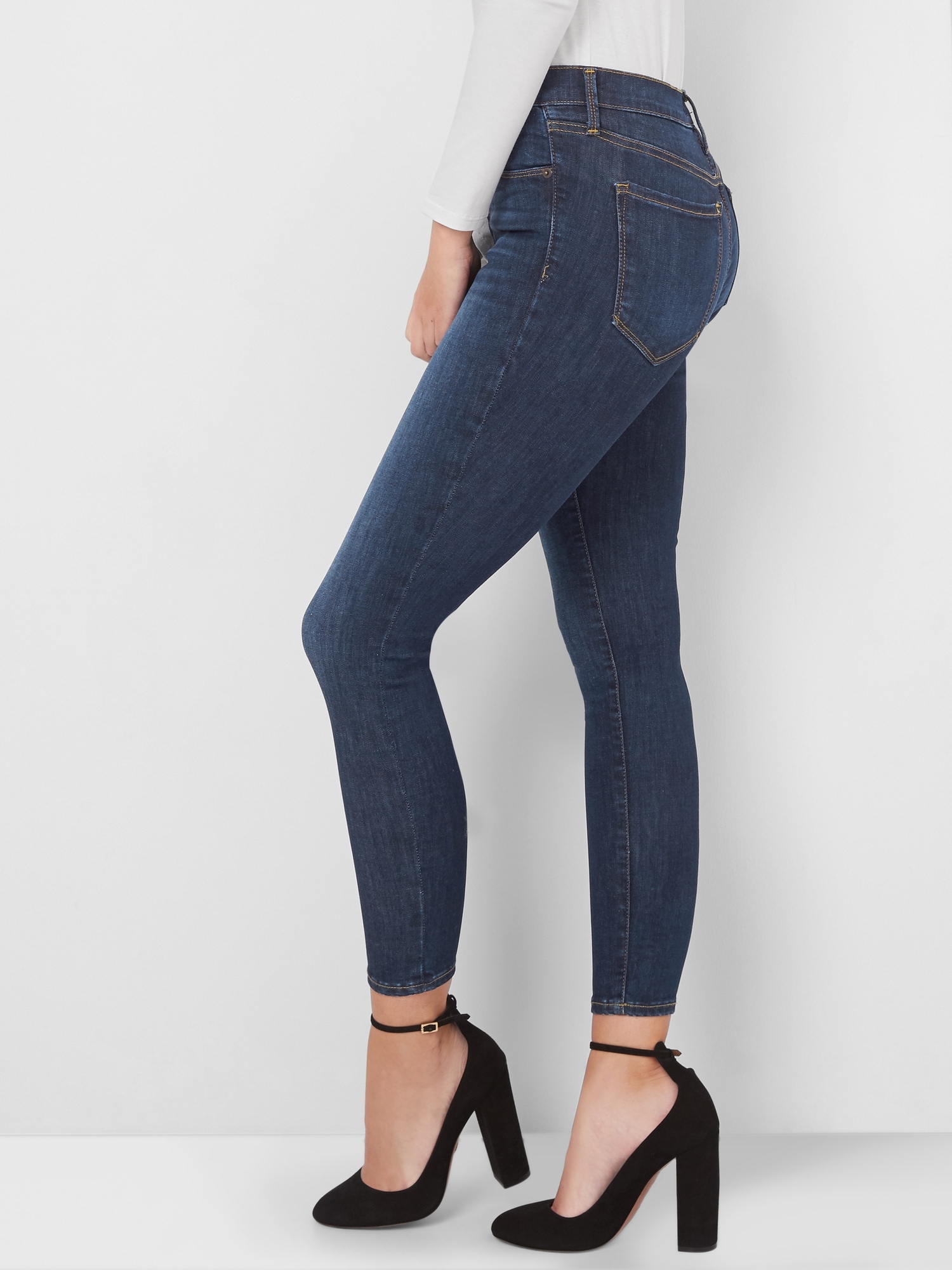 Take a peek at this pair from Gap—note again the dark wash, and the mid-rise. Unlike the high-rise jeggings we just looked at, mid-rise is another great option for avoiding the potential "muffin top" that low-rises can cause, but without making the high waistline a statement in and of itself. This can help to keep you trendy enough for a night on the town and professional enough for casual day at the office. The details are demure and subtle, which truly makes these jeans versatile enough to be accessorized to suit the occasion.
Another amazing thing about this pair of jeans is that it comes from Gap's own "Sculpt" line, and in addition to being stretchy and comfy, they actually help to pull any problem areas on your body in and up. So, if you have a belly you'd like to conceal, or if your butt needs a little assistance in fighting gravity, these are going to be the jeans that you pull out of your closet again and again. The secret is a little bit of Spandex, which releases when you need to move and then constricts right back into place, so your jeans don't wind up frumpy and tired-looking by evening. Pull these on with your favorite ballet flats, a fun printed tee, and a trench or denim jacket for a look made for you this season.
Time to Get your Flair with a Flare
We can read your mind already—you thought that flare jeans were out, you threw away all of the popular ones from your middle and high school days, and now your wardrobe is stuffed full of the tightest jeggings you could get your hands on. The good news is that you can absolutely hold on to the jeggings, because as we've discussed, those are still hot! However, flares are back, ladies, and we wouldn't be offering you a complete fashion rundown if we didn't discuss them. As it turns out, flares are a secret weapon of many a petite miss out there, and we're about to tell you how to make that work for you.
Let's take a look at this pair from Old Navy, as it's going to give you a really clear picture of all of the pros of this cut of denim. Again, we've chosen a very versatile mid-rise, and a really fun light wash, which goes great with the elegant bell-sleeved blouses that you're seeing everywhere right now. Keep a close eye on the inseam, however, and you'll see where the magic happens—flares give you legs that go from here to next week! Even if you're on the shorter side, a decent flare will make it look like there's more leg than not, which can balance out your silhouette and make you feel like the supermodel you are inside. This is especially true with a sweet pair of heels, as the model shows, but if you don't want to go full-on stiletto (ouch!), a little pair of kitten or block heels can also do the trick.
(Psst! Do you want to know how to save huge every time you shop at Old Navy? We've got you covered right here.)
Bet on the Timeless Bootcut
If there's one style of jeans that seems to work well with every style and body type across the board, it's the bootcut, and we're excited to report that this cut is just as fresh as it's always been. There's a reason that nearly every design house has its own take on the bootcut, as its fit represents original denim releases from way back in the day, and it appeals to so many fashionistas all across the world. We're going to delve into why, as well as digging into a modern take on this quintessential piece so that you can be sure yours is updated.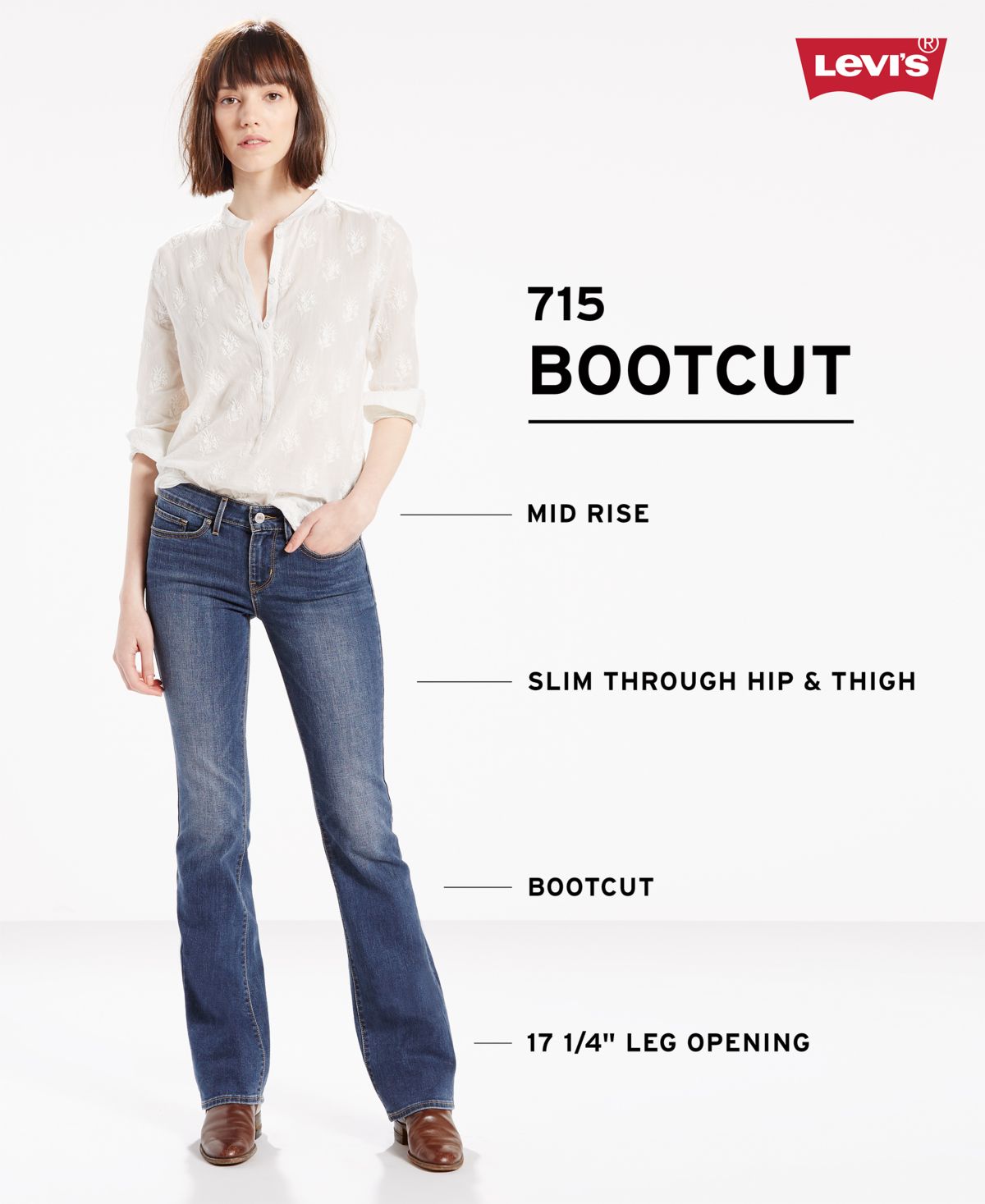 What's one denim brand that screams "classic" every time you think of it? it's Levi's, of course, and this pair of their bootcut jeans can be found online or at your local Macy's. Mid-priced and mid-rise, these already hit a lot of the pros on our researchers' checklist, but what's really great is that they come in a wide variety of washes. The general rule is that lighter washes are designed to accentuate while darker washes tone and diminish, but rules are meant to be broken, so if you don't find that to be true for you, do you! These have a looser, more comfortable fit in the thigh and leg, but not as loose as boyfriend cut denim, so you won't feel like your jeans are too tight or too baggy. Plus, the bootcut has a slight flare-legged opening, so they're perfect to wear over your favorite dress boots (hence the name). Pair these with a crisp Oxford button-up and dress jacket, and you'll be ready to own the night the next time you go out.
Above all else, fashion is supposed to be fun, allowing you complete creative control over how you look and, in some ways, how you feel. The best-dressed women in the world never leave home without their confidence, so once you have that down pat, you'll be ready to rock any of these jean trends and more besides. We hope we've been able to help you understand some of the best options available to you this season, and now that you have a good idea of what's going to work for your body, there's no stopping you! Look out, folks, she's a stunner!